2014 Zandvoort Historic GP report
Seaside sensations
Author
Mattijs Diepraam (words & photography)
Date
Related articles
Who?

David Hart, Leo Voyazides/Simon Hadfield, Manfredo Rossi, Tim Cousins/Steven Hart

What?

Lola T70 Mk3B, Lola T70 Mk3B, Osella-Abarth PA1, Chevron B23

Where?

Zandvoort

When?

2014 Historic GP (August 31, 2014)
Why?
Three years into the reborn Historic GP at Zandvoort, it was an easy guess what the visitors from abroad were going to say. Most were now back for the second or third time, and they loved it. No matter who you talked to, they all loved the track, the people and the atmosphere, and almost fell over each to praise the event. In an action-packed schedule that crammed even more sessions and races in the same three days, the audience on the grandstands and in the dunes could hardly catch a breath. We were present all three days and were left breathless too.
Many visitors – over 50,000 of them this time, a new record – had been swayed by the prospect of seeing Group C cars race at Zandvoort. Provisional entry lists looked healthy but then numbers slowly began dwindling. In the end, less than a dozen cars actually took to the track. People still loved the cars, of course, but ten cars provided far less drama than was hoped for. The pair of short races proved to be more of an IMSA GTP benefit rather than an actual Group C race, even though Michael Lyons' Gebhardt C91 was a popular pole winner – the first time in the car's entire history. Lyons couldn't hold on for the win on Saturday, which went to Stefano Rosina in another IMSA car, the Nissan NPTi90. Lyons did win on Sunday, another first for the pretty Gebhardt, while in both races Lyons and Rosina were harried by a third IMSA car, Richard Eyre's Jaguar XJR16. This meant that, surprisingly, Bob Berridge missed out on what had looked like two easy wins for the Mercedes C11.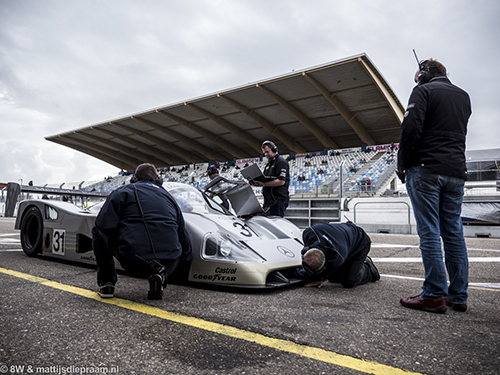 Bob Berridge missed out on two Group C wins in his Mercedes C11. (photo 8W)
Another sportscar race easily upstaged the Group C boys. No less than seven Lola T70 Mk3Bs were entered for the FIA Masters Sportscar Championship race on Sunday, with the sole opposition formed by Manfredo Rossi di Montelera's brave Osella-Abarth PA1. Marc Devis was driving one of the closed-top Lolas, and the Belgian was really enjoying his weekend at Zandvoort. "It was my first time here last year, and the crowd was fantastic. That was a big reason for me to return. I love the circuit, too. I like the old part from Tarzan to Scheivlak best, but the new section is the most difficult. I really need to discuss it with someone who's been around here." We said that two years ago we helped Manfredo Rossi gain quite a few tenths through there, and soon we were talking racing lines and braking points. "Do you have any other tips now?" Rossi quipped. "Those Lolas are quicker each year while I'm at the end of what I can get out the Abarth engine." We suggested an illegal engine, but the Italian Martini heir wouldn't hear of it.
Rossi did much better than expected, though, keeping up with Hart and Voyazides all throughout the first half of the race. Hart was less happy, as he had hoped to open up a gap to the Greek for his one-time team mate Martin Stretton to hold on to once Leo had handed over his T70 to the handy Simon Hadfield. "I know I can handle Leo", said Hart, looking back after the race, "I beat him big-time at Le Mans! But the car wasn't what it should have been." Voyazides, who closely followed Hart throughout his stint, concurred. "Our car handled much better than David's. I think that made a big difference. I think perhaps Martin is better than Simon, but Simon simply ran away." While Hart said that Hadfield was at least as good, he agreed that his green Lola wasn't a match for the white one, which opened up a 20-second gap at the hands of Hadfield. "I can't really be satisfied with that. I'm still not totally comfortable in the car, since I'm not driving it all too often, but we have to improve it to have a better shot at winning next year." Voyazides on the other hand was looking pretty pleased while he waited for his team mate to return to the pitlane for the podium ceremony. "To be honest, I hadn't expected it to be this easy." Different words from what he told us the morning before when he still very much feared Hart's challenge. Voyazides was a happy man, since he and Hadfield also won the Pre-66 Touring Cars race with ease.
Manfredo Rossi and Leo Voyazides talking shop. (photo 8W)
More pictures of the Friday at Zandvoort
In the intra-Cooper Monaco battle between Ahlers/Bellinger and Jolly/Farthing the latter pairing finally prevailed. "We've had so many problems in the previous races, and always in the final laps, but this time we pulled through", a delighted Jolly said. "I was crossing so many fingers that last lap!" Despite losing out to Jolly, Ahlers had still enjoyed his time at Zandvoort, though. "I find that the people here have so much more knowledge than at Silverstone or the Nürburgring", the Morgan man said. "Perhaps it's because the Silverstone Classic and Oldtimer GP attract so many car clubs all having their own party, but here people are all enthusiasts. They all come for the racing."
Headlining the Zandvoort bill, naturally, were the two FIA Masters Historic F1 Championship races. The event's largest ever field turned out, although the usual suspects were again seen out in front. Michael Lyons' Hesketh 308E was beaten to pole by Simon Fish's ex-Jan Lammers Ensign N180, but in the race Lyons junior soon set the record straight. Manfredo Rossi led the championship coming to Zandvoort and said he would enjoying these races less than the single FIA Masters Historic Sportscar Championship race on Sunday. "I'm going for the title now, so I will keep an eye on my opponents instead of taking risks." He ended up with more good points and looks a shoo-in for the championship.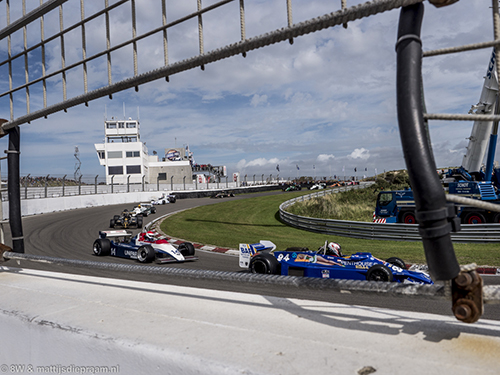 Michael Lyons already leading poleman Simon Fish through Hugenholtz corner on the first lap of Saturday's race. No-one would be heading him thereafter. (photo 8W)
Sunday's race was marred by a huge accident bringing out the safety car for almost half the race, Philippe Bonny having violently crashed his Trojan in the Arie Luyendijkbocht, which still holds the same challenge as its predecessor Bos Uit, now buried under a holiday resort several hundred yards further back on a straight that used to be even longer. In the end, Michael Lyons wrapped up the win as easily as he did on Saturday.
The real highlight of the weekend had already come on Saturday, though. Local interest was huge in the 90-minute Gentlemen Drivers enduro, the pre-63 GT category run by Masters Historic Racing. The reason was simple: local heroes David Hart and Hans Hugenholtz, two stalwarts of historic motor racing and among the few Dutchmen receiving annual invitations for the Goodwood Revival, pulled off a double stunt by not only luring back WTCC star Tom Coronel into their Cobras but also persuading Sauber F1 reserve driver Giedo van der Garde to make his historic debut at Zandvoort. Hart would be teaming up with Coronel, as he had done in the previous years, at Zandvoort as well as Goodwood, while Van der Garde was paired with Hugenholtz in the second DHG Cobra, in preparation for his Revival premiere a couple of weeks after.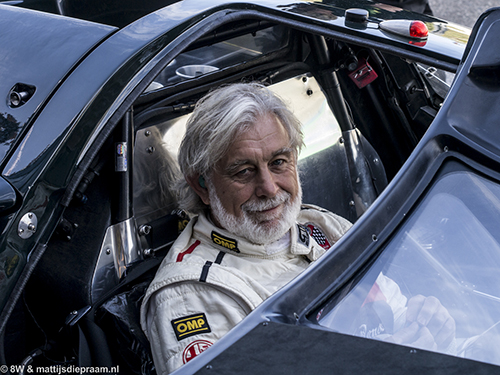 Meanwhile, Jason Wright talked to us about his plans with the Ferrari 156 F1 'Sharknose' recreated by Jan Biekens. It will return to the track in 2015, in the colours of Ricardo Rodríguez at Monza. (photo 8W)
It wasn't just his first time in historic motor racing but Van der Garde had never raced a tin-top before either. Asked whether anything compared, he was blunt in his answer: "None! I really had to adapt my driving style, since there is no grip whatsoever. One thing is similar, though. In an F1 car a slip angle of 2 degrees is already too much, but in the Cobra it's the same. Driving it neatly instead of going all out in the corners is the fastest, but that's quite difficult to do in a car that will even move about on the straights!"
In the race the two Cobras would be up against Rob Hall's similar machine, and the Bizzarrini 5300 GT entered by Georg Nolte for himself and Frank Stippler. The Bizza proved the fastest car by far, certainly in the hands of 'Stippy', who had to open up a gap to Hart in the quicker of the two Dutch Cobras, since Nolte had been 7 seconds a lap slower in qualifying. Hart meanwhile was relishing in his fight with Hall, hoping that Coronel would be able to make the difference later on in the race. The Dutchmen were in for a nasty surprise, though, when during the compulsory mid-race pitstops for driver changes Stippler stayed put. At the speed the German was racing the Bizzarrini the race looked won for him there and then.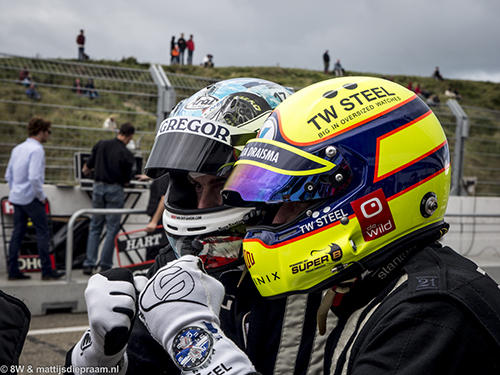 Giedo van der Garde and Tom Coronel were the local stars in the Gentlemen Drivers enduro. (photo 8W)
But that wasn't accounting for some sensational developments, since a couple of laps later Stippler was back in the pits. He was serving a stop-and-go penalty for hurrying away too soon after his compulsory pitstop. This put him behind Coronel, but he soon turned the tables and the race looked the Bizzarrini's again. However, no sooner than he had taken the lead he was called in a second time, now for not serving his penalty properly! With time in the race running out this shifted the tide to Coronel completely, who now didn't need to deal with Rob Hall either, the Brit retiring from the race. Further back, Van der Garde had stormed up to fourth after taking over from Hugenholtz and was looking to take third when a backmarker nerfed him off track in the Audi S chicane. This caused a piece of gravel to get wedged in the gear linkage, rendering the Cobra an immediate retirement.
At the front Coronel ran out the race as the winner, but Stippler in second place was livid. "I have a timer in my car", he argued, "and it showed that I had even taken four seconds too long!" His team boss was even angrier, accusing the organisers of deliberately gifting the win to the home team. Hart wasn't impressed. "Stippler shouldn't feel sorry for himself. The number of times I have been disqualified! And why wasn't Nolte in the car for the second stint anyway?"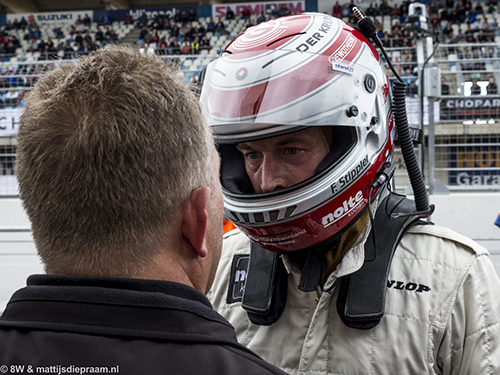 Frank Stippler was fuming after his double penalty in the Bizzarrini 5300 GT. (photo 8W)
More pictures of the Saturday at Zandvoort
Another first at Zandvoort was the presence of the 500cc F3 club. It was a joy to see these cars in the paddock, and watching them was just as entertaining. Discussing the cars' simple plumbing with pole man George Shackleton, we said it was a miracle that the concept wasn't thought of earlier. "It does seem logical to put the engine in the back, yes. Mind you, there have been experiments with FWD 500cc, with the engine in the front, but those didn't work. The driver was constantly getting sprayed with methanol!"
The Historic Grand Prix Car Association was responsible for four races on the weekend, Julian Bronson and Jason Minshaw each bagging a pair of wins. The talk of the pre-61 races, however, was Shirley van der Lof driving Adrian van der Kroft's HWM, in an effort to emulate her grandfather Dries van der Lof who raced an HWM in the 1952 Dutch GP in what was to be his single World Championship appearance. The girl racer qualified 13th but on Saturday used the wet track to her advantage to storm up to fifth at the flag, and a Formula 2 class win. Minshaw had some storming up to do as well on Saturday, having qualified only fourth. "Yes, I qualified four seconds slower than last year! Still it was very early for me yesterday, had some delays on my trip from England and only just made it." So he was in effect jetlagged? "Well, that's the excuse I was using! But let's see where we are at the end of the race – that's where it matters." He was right. Within a couple of laps he had taken the lead to romp to a fairly easy win. It was the same on Sunday.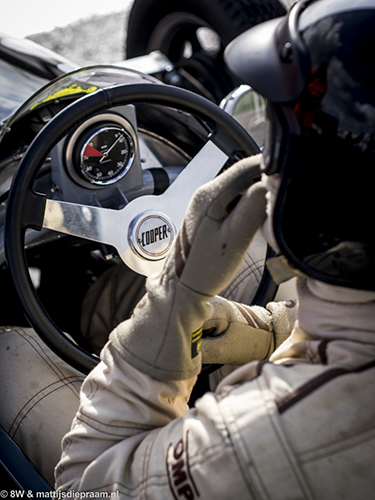 George Shackleton was the pole man in both 500cc races and won the first in his Cooper Mk11. In the second race he lost out to Brian Jolliffe in the Cooper Mk9. (photo 8W)
In the two FIA Lurani Trophy races, David Methley was another double winner, while in Historic F2 James Hanson and Darwin Smith exchanged first and second places. The bill was completed by two national historic championships, both of which provided large fields and exciting racing, while further variety was provided by the DRM Pokal races, featuring Porsche 935s and BMW M1s.
The demos – usually a moment to grab a bite – were full of interest too. Arie Luyendijk paired up with Chris Locke to recreate the Mario & Ronnie Show in the pair of Lotus 79s that steamrollered Zandvoort in 1978. And with matching helmets too: Chris Locke wore that distinctive blue and yellow Peterson helmet while Arie had brought one of his Andretti helmets from his own collection.
Another demo highlight was David Brabham driving a pair of cars bearing his father's name. On Saturday he drove a 1.5-litre Brabham while on Sunday he went out in a title-winning Repco-engined machine from the early 3-litre era. This appearance was complemented by David impersonating Sir Jack's famous act of limping to his car as a bearded old man with a cane. It was classic.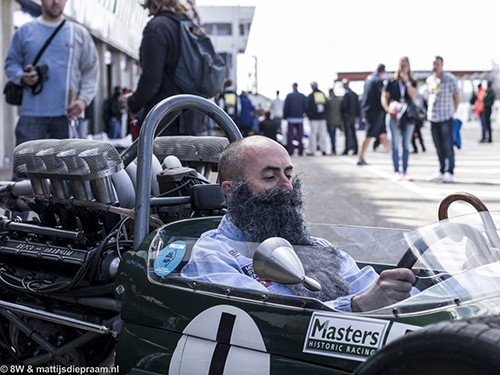 David Brabham gave a class performance emulating his father's classic bearded-old-man-with-a-cane act. (photo 8W)
More pictures of the Sunday at Zandvoort
Roberto Moreno was there too. He travelled all the way from Florida to be re-united with the Coloni C3 he drove in 1989. You would think he could not be happy at the sight of the back-of-the-grid car, but the Brazilian was cheerful as ever. And who wouldn't be in front of a packed crowd of 50,000? "I've always aimed at establishing a career, which happened to be in motor racing. That's why I came to Europe with 13,000 dollar, while at the time a full season of Formula Ford cost 30,000 dollar. And that's why I'm happy with every opportunity I was ever given. I had some really good times at Coloni, and qualifying some of these cars in places where they didn't belong is among the most satisfying things I have done."
After the weekend the Brazilian would be driving his Fiat 500 rental car back to Paris since that's where his inbound flight had taken him instead of Amsterdam, having earlier missed a connection, but Moreno wasn't complaining. It's an attitude that could serve a lot of young racers of today, and that fortunately is seen a lot too in the historic motor racing paddocks around the world. At Zandvoort, that was certainly the case.