THE CHAMPIONS / More than Mister Monaco:
Graham Hill – all-rounder extraordinary
Author
Date
Related articles
Who?

Graham Hill

What?

Porsche 718/2

Where?

Solitude

When?

1960 Solitude GP (24 July 1960)
Why?
A familiar helmet and moustache, but an unfamiliar car. A determined-looking Graham Hill on the grid at the challenging Solitude circuit before the start of a Formula 2 race. He would finish fourth.





In these days when Formula 1 drivers make just seventeen racing appearances a year and back it up with a few selected public events for the benefit of their sponsors, it is hard for us to remember the days when even World Champions not only ran a full Formula 1 season, but also often a Formula 2 campaign in the European Championship, Le Mans, some other sports car races and the Tasman series to pad out the European winter: just for fun they might race the odd saloon or GT car too! Unbelievable? Today, yes – but in the sixties that would be a typical season for Graham Hill: even late in his career he was regularly racing on between thirty and forty weekends a year.

Graham Hill was the face of motor racing in Britain in the 1960s – extrovert, fun-loving, dashing, rakish, moustachioed and handsome he was the public's idea of what a racing driver should look like. We realised that Jimmy Clark was probably a better driver, but Jimmy was, well, dour and just a bit dull. John Surtees? A bit 'prickly' and, well, dull. Jackie Stewart? A bit too flashy for some people's tastes. But Graham looked and acted like a gentleman! He had inherited the mantle from the late Mike Hawthorn and Peter Collins and did his best to live up to their hell-raising image: indeed he might have been a throwback to the 30s when chaps went racing for fun and could afford to spend large amounts of money on their hobby. Yet he had worked his way up from nothing: unlike Hawthorn or Moss he did not have enthusiastic parents who could dispense large amounts of money and time to kick-start his career. He was a late starter too: his first sporting love was rowing and although he had competed in a few motorcycle scrambles he was actually nearly 25 years old before he even sat in a racing car and had only recently passed his driving test! That was in late 1953, when Graham paid the princely sum of five shillings for four laps of Brands Hatch in a Formula 3 Cooper owned by a racing school: he wrote later that at that moment he was bitten by the motor racing bug and his main purpose became to get back in the car as soon as possible. And rowing was to be an ever-present part of his motor racing career too – the familiar dark blue and white helmet which he always wore was based on the colours of the London Rowing Club – in his autobiography he remarked that he seemed only to excel at sports which allowed him to sit down while competing and that he could even do one of them facing the wrong way.

Knowing no other way in, Graham volunteered to help the driving school, the Universal Motor Club. The owner soon debunked, but Graham managed to get another post working at another driving school, while still signing on as unemployed. He had worked at Smiths Industries as an engineer, but had quit to pursue his racing dreams. Among his strategies for getting into racing was to frequent the Steering Wheel Club in London, despite never being a member. He later recalled that he would spend entire evenings there, clasping a half pint of bitter, most of which probably evaporated, since it was all he could afford, and he could never accept a drink from anyone since he had no money to return the favour. After a few months, a chance meeting at Brands Hatch with Colin Chapman, the founder of Lotus, would change Graham's life when he scrounged a lift back to London on the Lotus truck - Chapman thought Hill was a friend of Mike Costin while Costin thought he was a friend of Chapman. In fact he knew neither but the silver-tongued Hill managed to persuade both of them that he was a man worth knowing!

So, almost by accident, Graham got a job with Lotus, working on customers' cars and managing to scrounge drives from time to time, but by the end of 1955, two years after that five shilling investment, he had a grand total of just four races to his name!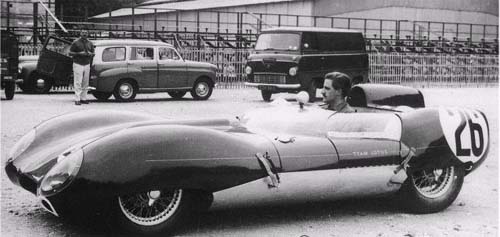 Graham's first Le Mans was in 1958 - he would have shared this Lotus 15 with Cliff Allison, but it lasted just three laps, all driven by Allison.

In early 1956 Graham built his first car, a bright yellow sports Lotus 11. Colin Chapman lent him the parts, retained ownership of the car and was to get any prize money, start money and bonuses! Still, Graham was racing at last and in his first full season he almost won the Autosport Championship. He raced on through 1957 in a variety of cars ranging from Lotuses to a Tojeiro-Jaguar and a Formula 2 Cooper and was rewarded with a works Lotus Formula 1 drive for 1958.

His first race was at Monaco, when the compact Lotus 12 lined up on the grid for the first time alongside the Ferraris, Maseratis and Vanwalls. The 12 was one of the last front-engined Formula 1 cars and was considered fast but fragile; the same could be said of its successor, the 16. Just for once, Chapman was not in the vanguard of progress and his first rear-engined design would not appear until 1960. In two years, Graham managed just four finishes and no World Championship points and in late 1959 he was approached by BRM to make up what would be a very strong team alongside Jo Bonnier and Dan Gurney: these three also drove for Porsche in F2 in 1960. Ironically, had he stayed at Lotus, Graham would have had the excellent 18 to drive, the car with which Moss gave them their first win, just two years after their first attempt. BRM had taken nine years to make the same leap! Chapman attempted to keep Graham in his team, but Hill had tired of the continual breakages on the Lotuses – in a supporting sports car race for the 1959 British GP he had had a furious dice with Jack Brabham, during which the gear lever came loose: he won the race, presenting Colin with the lever afterwards!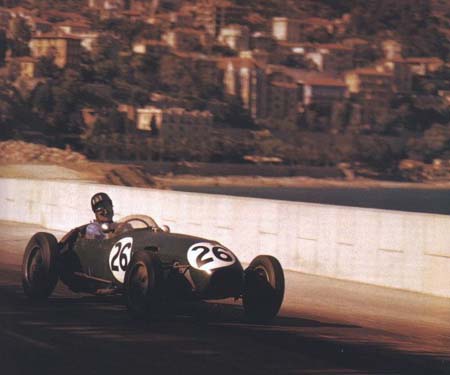 Scene of triumphs yet to come: Graham's Grand Prix debut at Monaco in 1958 in the Lotus 12.

Nevertheless, for good or ill, he was now a BRM driver. He was to bring a new professionalism to the team, providing a focus around which they built a winning operation. This was perhaps not their original intention, for in 1961 he lined up alongside the more experienced Tony Brooks who, in retrospect, must have been considered the better driver at the time. But first we must return to 1960. Graham's first race for BRM was in Argentina in the old front-engined Type 25, but by the time the European season opened, the new rear-engined Type 48 was ready. In only his second Championship event in the model, Graham scored his first podium finish in the Dutch Grand Prix. Two retirements followed in Belgium and France, but then came the race which brought Graham Hill to the attention of even the most casual racing fan – the 1960 British Grand Prix.

With Graham second on the grid and his team-mate Bonnier on the front row in fourth position, BRM were confident. That confidence was shattered when Hill stalled at the start – Tony Brooks' and Henry Taylor's Coopers were similarly stranded – and the leaders were at Becketts by the time he got away. By lap six he was already up to eleventh place, harrying Masten Gregory. Two laps later he was seventh, having passed Gregory's Cooper, the Ferraris of von Trips and Phil Hill and his own team-mate Gurney, whose gear lever had worked loose and who was soon to pit. Bonnier was dropping back from the front – he had started out second, but was now fifth – and World Champion Jack Brabham was just driving away from the field, or so it seemed. Behind him were the three works Lotuses of Clark, Surtees and Ireland and McLaren's Cooper. Hill passed Bonnier on lap19 and set off after McLaren, who he disposed of just a couple of laps later. He was now fourth and within six laps caught Surtees and Clark, who had dropped back from Ireland, who in turn was trying to make inroads in Brabham's lead. By lap 30, Graham had worked his way past the Lotus duo and was now third, gaining quickly on Ireland, who he passed as easily as his team-mates. Now just seven seconds adrift of Brabham, he slowly hauled him in, to the delight of a partisan Silverstone crowd, and by lap 53 he was alongside the Cooper. On lap 55 the BRM was in the lead, but despite having caught him so easily, Graham found the experienced Australian impossible to shake off and a thrilling duel developed, with Brabham trying everything he knew to get past and putting the pressure on at every opportunity. But the hard driving was taking its toll on the BRM and the brakes were fading – while passing some backmarkers Graham spun off at Copse and his mercurial race was over. He walked disconsolately back to the pits, cheered to the echo by the crowd – instantly a hero!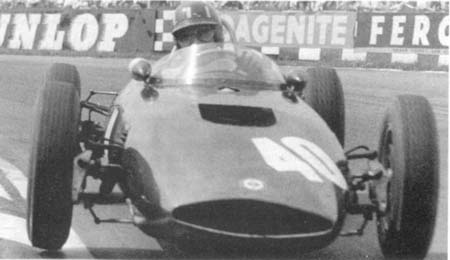 Trying hard in the BRM P48/57 in the 1961 Silver City Trophy at Brands Hatch.

The rest of 1960 was disappointing, while 1961 was disastrous. The new BRM V8 engine wasn't yet ready and the team, like all the other British outfits, were compelled to rely on old Climax 4-cylinder units. Disillusioned, Brooks retired at the end of the year and was replaced by Richie Ginther, who joined from Ferrari as Hill's number two. 1962 would be make or break for BRM: they had been given an ultimatum by Sir Alfred Owen – find winning form or be closed down. Early-season results were encouraging, with a heat win in the Brussels GP, second place in the Lombank Trophy at Snetterton and then two victories in the Glover Trophy at Goodwood and the wet International Trophy at Silverstone, when Graham pipped Jim Clark at the flag, crossing the line almost sideways. He then won the first Championship race of the season at Zandvoort, although a cloud appeared on the horizon there in the shape of the new Lotus 25. Throughout the season, the duel between Hill in the BRM and Clark in the Lotus would dominate the World Championship and in the next race at Monaco Graham seemed on course for another win when his car went sick near the end. Clark then won in Belgium with Hill a distant second. France provided Dan Gurney with a surprise win for Porsche and in Britain Clark won with Hill fourth. Graham then took a splendid victory in Germany after a race-long battle in the rain with Surtees and Gurney and BRM went on to an emphatic 1-2 in the Italian race, Hill winning by half a minute from Ginther, who in turn was almost half a minute ahead of the rest of the field. Jimmy won in the United States with Graham just a few seconds behind and so the battle went all the way to the wire in South Africa on December 27th. Clark had to win the race to take the title and he quickly built up a big lead, but mechanical gremlins struck the Lotus and Graham cruised home to take both the race and the World Championship, just seven months after his first race win.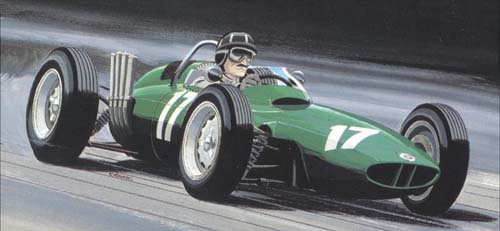 First Championship win: a painting of Hill at speed in the 1962 Dutch GP.

For the next three years Graham Hill was an ever-present factor in Formula 1 – always competitive, battling with the other two main protagonists of the period, Clark and Surtees. Jimmy took the championship in 1963 and 1965, Big John won in 1964, but Graham was always there or thereabouts and finished as Championship runner-up in all three seasons.

The period between 1963 and 1965 was arguably the best of his career – he scored two hat-tricks of wins in the most gruelling races of the year; the Monaco and United States Grands Prix and in 1964 the championship was snatched from his grasp at the final race in Mexico City when Lorenzo Bandini responded to the urgings of his team by slowing down on the last lap to let Surtees through into second place to win the title by a single point. Ginther too had three successful seasons, leaving at the end of 1964 to join the new Honda team, when he was replaced by a new young Scots driver called Jackie Stewart, who had turned down a seat at Lotus to join BRM.

The third of his wins at Monaco was perhaps his greatest ever race. Admittedly Clark, his greatest rival, was occupied elsewhere, but Graham was already recognised as the master of Monaco, while Jimmy was notoriously unlucky there. Already leading on lap 25, he encountered Bob Anderson's sick Brabham creeping towards the chicane stuck in first gear. With no way past he locked the brakes and the BRM slithered to a stop in the escape road. Graham jumped out and pushed the car back onto the track, rejoining in fifth place and more than half a minute behind Stewart who took the lead temporarily but soon spun and dropped to fourth. Hill soon caught and passed him and then tackled Surtees and Bandini. The Italian was by now leading as Brabham had retired but Graham was able to bide his time and spent twelve laps stalking the Ferrari driver before picking him off at the Gasworks hairpin. Surtees also passed Bandini and pressed Hill for a while before running out of fuel on the last lap. After more than two and a half hours, Graham crossed the line, having recovered from fifth place and a push-start on the circuit – his best race lap was 0.8 seconds faster than he had achieved when setting his pole position time and his average race speed would have put him on the fourth row of the grid if converted to a lap time!

The first half of the 1960s was also an active period for Graham in other categories of racing in the UK. Because BRM raced only in Formula 1 and Formula 2 was in abeyance until 1964, on non-Grand Prix weekends he could often be found driving at British National meetings in GT and Saloon Car races. He gave the E-type Jaguar a winning debut in its first race at Oulton Park in April 1961, driving for Tommy Sopwith's Equipe Endeavour, and then moved on to drive John Coombs' E-type in what was essentially a Jaguar works entry in all but name. Once the car, registered 4WPD, was fully 'sorted' it was more than a match for the Ferrari 250GTOs in Hill's hands, at least in shorter races, and he took a string of wins and podium places through 1962 and 1963. He also drove a Jaguar Mk2 saloon for Sopwith in 1961, again switching to Coombs' team in 1962-63, filling in odd weekends in E-types and Mk2s for Tommy Atkins as well: he was a very busy driver in his World Championship year and 1963!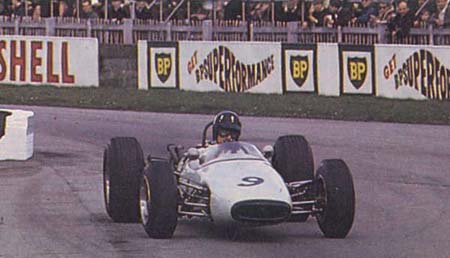 At the Goodwood chicane in the Sunday Mirror Trophy, 1966 - the last Formula 2 race at the Sussex track - in John Coombs' Brabham BT16. Graham tried the Matra in practice but opted for the Brabham in the race - he finished fifth behind four newer Brabhams.

Formula 2 returned in 1964, with the 1-litre "screamer" formula, and Graham drove a few races in Coombs' Brabham BT10-Ford, the first of which was the famous battle with a young Jochen Rindt at Crystal Palace. He tackled a more comprehensive F2 season in 1965 in a Brabham BT16, again run by Coombs but this time with BRM power. He took a win at Snetterton and if he finished was generally beaten only by Clark – later in the year Coombs got hold of a Lotus 35, but the BRM engine tended to let him down in both chassis. The BT16 came out again for the early races of 1966 until Coombs' Matra MS5 was ready, but the French cars were not really competitive with the Brabham-Hondas and Graham managed only some minor placings.





Heading for the first of two successive victories in the New Zealand GP in 1965 - Hill is seen here at Pukekohe in the Scuderia Veloce Brabham BT11A. Note the Italian flag just ahead of the cockpit and what appears to be an "illegal" Shell decal on the screen.

Graham also made regular visits to the Antipodes during the European winter – in 1963 he drove the 4WD Ferguson P99, coming second in the rain at Lakeside and retiring from the New Zealand GP with less than a mile to go and in 1964 he took a win in the South Pacific Trophy at Longford in a Brabham BT4-Climax run by the leading Australian team Scuderia Veloce. He drove for Scuderia Veloce again in 1965, this time in a BT11A, winning the New Zealand GP. In 1966 BRM sent both Hill and Stewart to contest the Tasman series and Graham took wins in the two major races, repeating his New Zealand victory of the year before and adding the Australian GP for good measure, while Jackie took four wins and the title.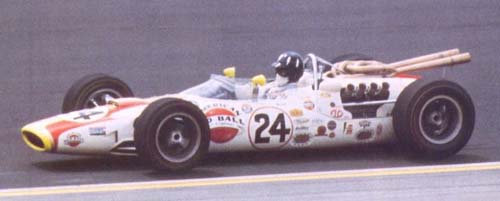 First Indy - first win! At speed in the Red Ball Lola, 1966.

However, 1966 also saw a new departure for Graham – he raced at Indianapolis in the famous 500 Miles Sweepstakes for the first time, driving one of two Lolas dubbed Red Ball Specials: as at BRM his team-mate was Jackie Stewart. He had been to Indy before, in 1963, when he had tested Mickey Thompson's "Flying Saucer", but considered the car so dangerous that he flew home without attempting to qualify. The Red Ball Specials were owned by John Mecom and prepared by George Bignotti and the drive only came Graham's way by chance when Walt Hansgen suffered ultimately fatal injuries while testing at Le Mans. He qualified fifteenth and was extraordinarily lucky to avoid the enormous accident at the first start, which took out eleven cars. The restarted '500' was a race of attrition, with leader after leader spinning or retiring: Lloyd Ruby, Jim Clark and Jackie Stewart all saw victory slip away and Graham picked up a somewhat lucky win, according to most lap charts anyway. Some thought Clark was the actual winner, but Hill was always of the opinion that as he had been directed to Victory Lane and been given the bottle of milk to drink, he must have won: possession is nine points of the law! He was the first rookie winner since 1926, when Frank Lockhart had triumphed at the Brickyard.

1966 was a poor year for BRM: they were again waiting for a new engine for a new formula. This time it was the ill-fated and infamous H16, for which much was promised but almost nothing delivered, except for a solitary win at Watkins Glen for Clark in a Lotus 43, which stretched the bounds of credulity. At the end of the year, Graham received an offer which must have been impossible to resist – he was to rejoin Lotus as Clark's team-mate with equal number one status. Lotus were developing the 49, the first chassis designed to take the new Ford Cosworth DFV engine, and Hill was to carry out much of the development work on this instant classic.

The 49 was head and shoulders above the opposition when it appeared at the Dutch GP – Graham put his on pole position but Jimmy won the race. Ironically, that was often the pattern in 1967 – Clark had the luck and took three wins, while Graham suffered mechanical maladies of various sorts. That was mirrored in his Formula 2 season, with a works Lotus 48: Jimmy took three wins while Graham could only manage two seconds. The Lotus effort at Indianapolis was backed by the STP Corporation for 1967 but was frankly disappointing – Hill, the reigning champion, barely made the grid in 31st place while Clark managed 16th. They posted the second and third retirements of the race, both their Ford engines suffering burnt pistons by lap 35 – not a happy return for the two previous winners of the '500'.

They had a better time 'Down Under', though: Jimmy won the 1968 Tasman title and Graham took two strong second places and one third in the series where the red livery of Gold Leaf Team Lotus appeared for the first time.

In the wake of Clark's fatal accident at Hockenheim in April 1968, Graham Hill became the lynchpin around which Lotus was rebuilt – he rallied the team by winning the next two races: the Spanish GP at Jarama and his fourth Monaco victory added to his second place behind Jimmy in South Africa gave him a secure lead in the championship, although a mid-season slump meant that Stewart, by now driving Ken Tyrrell's Matra-Ford, and 1967 champion Denny Hulme in a McLaren ran him close towards the end of the year. This time a visit to Mexico City was a pleasant experience, since Graham returned with the win and his second World Championship – in the first half of the race he had fierce battle with Stewart, but a misfire and a crack in the chassis caused the Scot to drop down the field and Hill cruised home. In Formula 2, the Lotus 48 was by now outclassed by the Matra MS7 and Brabham BT23C, especially the Winkelmann Racing car of Jochen Rindt – Graham's best finish was a fourth place in the rain at Reims, but the main thrust of the Lotus effort (such as it was) was behind non-graded driver Jack Oliver, who finished fourth in the European Championship – a very long way behind champion Jean-Pierre Beltoise though. After Clark's accident, the lack of enthusiasm at Lotus for Formula 2 in 1968 is entirely understandable.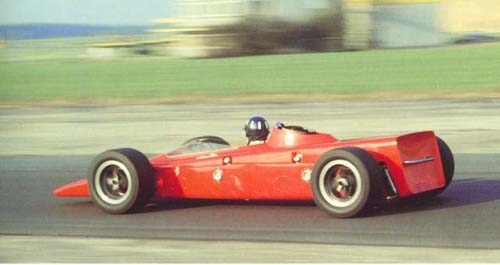 Testing the Lotus 56 Indy car at Hethel in early 1968. Already in STP red, but no sponsorship visible!

Lotus teamed up with STP and Andy Granatelli again for the 1968 Indianapolis 500, entering no less than four examples of the revolutionary Pratt & Whitney turbine-powered Lotus 56, for Hill, Parnelli Jones, Jackie Stewart and Mike Spence, but the team was dealt another cruel blow when Spence was killed in testing: poor Mike had been drafted in as a replacement for Jimmy Clark. Jones had already quit, in the belief that the new inlet restrictions would mean the cars were uncompetitive and then Stewart withdrew after injuring his wrist in a crash in the Formula 2 Madrid GP. Graham was left as the only driver, although Granatelli moved quickly to sign up Art Pollard and Joe Leonard to drive the two remaining cars. Hill proved Jones wrong when he went out first on qualifying day, setting a new record mark of 171.208mph, a speed exceeded by a whisker later in the day by Leonard in the sister car – the 'Whooshmobiles' were first and second on the grid, with Pollard eleventh. On race day Graham was driving his usual conservative race, always in the top 5, and behind Leonard who was scrapping with Bobby Unser and Lloyd Ruby for the lead, but on lap 111 his suspension broke and his '500' was over. The battling Leonard continued, only for his car's engine to 'flame out' and stall just ten laps from the end, Pollard suffering the same fate just a lap later – this was put down afterwards to a slight change in the fuel mixture causing the fuel pump to seize. Ironically, the modification to the pump that caused this had not been carried out on Graham's car. USAC, alarmed by the speed of the turbines, placed further inlet restrictions on the cars and legislated them out of contention.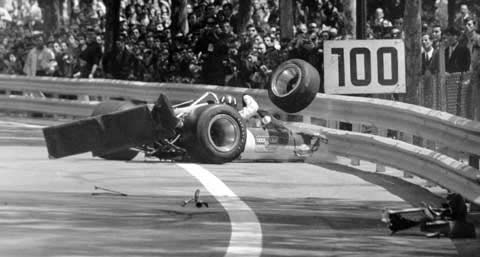 The shattered remains of Hill's Lotus 49C after his disastrous wing failure at speed in the Spanish GP. Moments later, Rindt's car would slam into the wreckage...

1969 brought a new team-mate, the hard-charging Austrian Jochen Rindt. Jochen was the master of Formula 2 but desperately unlucky in Formula 1 – Graham was entering the twilight of his career while Chapman was looking to the future and they made a strong, if somewhat volatile, pairing, which first ran together in the Tasman series. Jochen took two wins and Graham two second places, but the title fell to Chris Amon's Ferrari. In Formula 1 this was the year of the high wings and Graham started the defence of his second title with a second place in South Africa, but at the following event, the Spanish GP at Montjuich, both Lotuses succumbed to disastrous wing failures. Hill's car hit the barriers first and he had already identified the same problem on Jochen's 49 when the Austrian's car also lost all downforce at the same point, sliding into the remains of Graham's own car. Rindt was trapped in the wreckage and Graham's "magic hands", which had already extricated Jackie Stewart from his wrecked BRM at Spa in 1966, went to work again. Jochen was too badly injured to race at Monaco, where Lotus arrived with two ex-Tasman cars, hastily updated. Those wing failures meant that the CSI rushed through new regulations banning movable aerodynamic devices and limiting the height of wings so, like all the other teams, Lotus had to indulge in some metal-bashing at Monaco, fabricating and fitting new wings from scratch.

Despite all the upheaval, Graham took his fifth Monaco victory, with a typically controlled, measured race after Stewart had a driveshaft break on lap 23 when leading by thirty seconds. It has often been remarked that Hill's regular driving style was the key to his success at Monaco – once he settled into a groove he was able to reel off the laps at the same pace every time.

Indianapolis in 1969 was another disappointment – both Graham and a still-shaken Jochen failed to qualify in their complex four-wheel drive Lotus 64s. Jochen spun on the banking and then Mario Andretti had a spectacular hub failure on his car, which ended up as a fiery wreck. The under-developed cars were withdrawn and Mario eventually won the race in an old Hawk.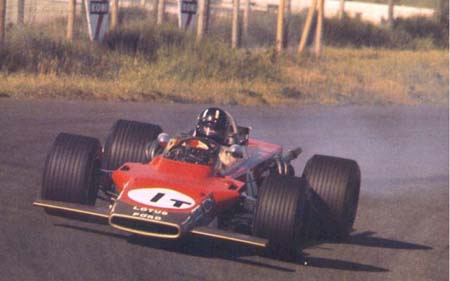 Struggling with the 4-wheel drive Lotus 63 in practice for the 1969 Dutch GP. Hill and Rindt eventually refused to drive the cars and Lotus had to revert to the well-tried 49.

The rest of 1969 was also disappointing as Lotus pursued the ultimately pointless development of the four-wheel drive 63 and culminated in his second major accident of the year, this time at Watkins Glen. After spinning on oil, Graham had stalled the car. Typically, he push-started it, but was unable to refasten his safety belts without assistance – it will never be known whether or not this saved his life – and two laps later his car spun again, possibly due to a slow puncture. The car flew into the air and he was thrown out before it destroyed itself on landing upside-down at the side of the track: Graham ended up twenty yards away, having broken both legs, but he was at least alive – had he been strapped into the cockpit his injuries would surely have been even more serious and perhaps fatal. This race was Rindt's first win in Formula 1 – he had first raced in the category in 1964 and had been a regular since 1965, driving for Cooper and Brabham before joining Lotus. Formula 2 had been kinder in 1969 and Graham took a win at Albi in his Winkelmann-run Lotus 59B, backing this up with a fine third place at Tulln-Langenlebarn after a tight battle in the second heat with Stewart and Rindt, the eventual winner.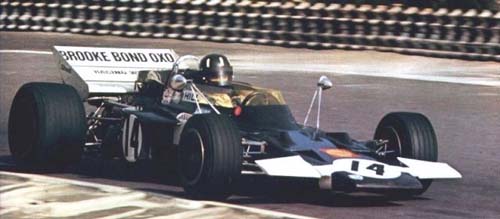 End of an era: Graham Hill in Rob Walker's Lotus 72C in the 1970 Mexican GP. This was his last race for Walker and Walker's last as a private team owner.

Within days of his accident Graham had declared his intention to be fit for the first race of the new season, which was in South Africa on March 7th 1970, just five months later. Despite being unable to walk without the aid of a stick and having to be lifted in and out of the cockpit of his Rob Walker-run Lotus he actually finished sixth in the race – an amazing achievement and a great tribute to his determination. A few minor placings followed in Walker's old Lotus 49, but delivery of the promised 72 was delayed until the Italian GP, from which race it was withdrawn after Rindt's fatal practice accident – he managed just the three North American races with it, with disappointing results. At the end of the year, Walker combined his operation with Team Surtees and Hill moved on to Brabham to drive the unique 'lobster claw' BT34 alongside Tim Schenken in an older BT33. This car was to bring his final win in Formula 1, when he took victory in the non-championship International Trophy at Silverstone. The radical BT34 was not a success though, and Hill reverted to the BT33 for the first two races of 1972 until the new BT37 was ready, driving alongside a promising Argentinian youngster called Carlos Reutemann and, later in the year, Wilson Fittipaldi, who was saddled with the old BT34.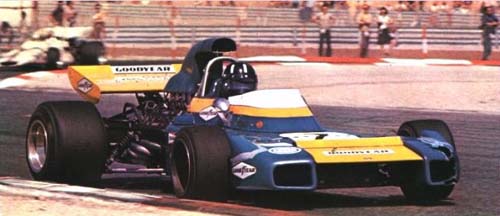 Hill's Brabham BT34 in the 1971 French GP showing the scars of an "off" when he spun on an oil slick laid by Ronnie Peterson's March 711-Alfa Romeo. Note the repaired crack in the other "claw" too.

Brabham was a team in turmoil that year and results were hard to come by – Graham managed just four points in the World Championship, but he still outscored Reutemann. Brabham finished bottom of the Constructors' Championship: just two years previously they had finished fourth behind Lotus, Ferrari and the massed ranks of March and in 1969 had beaten all but Matra.

Despite his accident, Graham did also run in Formula 2 in 1970 – the semi-works Lotus 69s were entered by Jochen Rindt Racing, a team run by Jochen's manager Bernie Ecclestone, but good results were rare that year and the team did not race again after Jochen's demise. 1971 saw him in a Formula 2 Brabham BT36 run by Ron Dennis and Neil Trundle's Rondel Racing – he came third at Rouen, second at Brands Hatch and in the Jim Clark Memorial race at Hockenheim and won the Jochen Rindt Memorial race at Thruxton. In 1972, Graham formed his own Formula 2 team, running a Brabham BT38 with sponsorship from Jägermeister. The bright orange car was very visible on the circuits and he scored a win with it in the Monza Lottery race, proving that he could still 'mix it' with the young chargers. In retrospect, the whole operation was probably a 'dry run' before launching his own Formula 1 team.

While 1972 was unproductive in Formula 1, Graham was to crown his distinguished career in sports cars with a win in the Le Mans 24 Hours. Throughout the early 1960s he had run in selected International events, as often as not in Porsches, which he shared with drivers of the calibre of Jürgen Barth and Jo Bonnier. In 1961 he teamed up with Stirling Moss, in a variety of cars, although good results were hard to come by, while in 1962 he and Ginther handled the experimental Aston Martin 212 at Le Mans: they ran in second place for a while before retiring and the same driver pairing were back in 1963, this time in the Rover-BRM gas turbine. The car was ineligible to compete in the race, but ran faultlessly and finished eighth on the road, averaging 108mph – two years later a revised coupe version finished tenth, this time in the hands of Hill and Stewart. In the intervening year, 1964, Graham drove various Ferraris for Colonel Ronnie Hoare's Maranello Concessionaires team – a splendid season brought a solo win in the Tourist Trophy and, with Jo Bonnier, two further victories at Montlhery and Reims. They also finished second at Le Mans, but 1964 proved to be the high point of his sports car career until 1972 (in the meantime he had the odd isolated race, but with little success).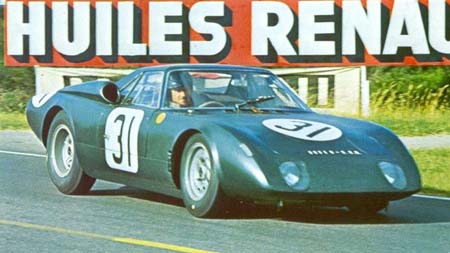 The experimental Rover-BRM was based on an ex-Ginther Formula 1 chassis, which he had crashed in the 1962 Monaco GP - it is seen here in 1965 closed coupe form, with Hill at the wheel.

Graham had not been to Le Mans since 1966 when he shared an Alan Mann GT40 with Australian Brian Muir and was one of eight current or future Grand Prix drivers who made up the four-car Matra team in 1972. He shared an MS670 with Frenchman Henri Pescarolo, taking a justly popular win – the first for a French car since the Rosiers' Talbot triumphed in 1950. But the victory must have been tainted for Graham, for his old team-mate and sports car partner Bonnier was killed in an horrific accident near the Indianapolis corner. Nevertheless he had now completed the third leg of a unique treble – he is the only driver to have won a World Championship, Indianapolis and Le Mans. Only Mario Andretti has ever come close to equalling this since, but it looks unlikely that any World Champion will ever again attempt both the other two, let alone achieve them.

Hill took the plunge and formed his own team for 1973, with backing from Embassy cigarettes, becoming the first customer of a new manufacturer called Shadow. The white and red liveried car looked pretty and sometimes went well, but Graham was even less successful than the works drivers Jack Oliver and George Follmer and for the first time since 1959 he failed to score a World Championship point.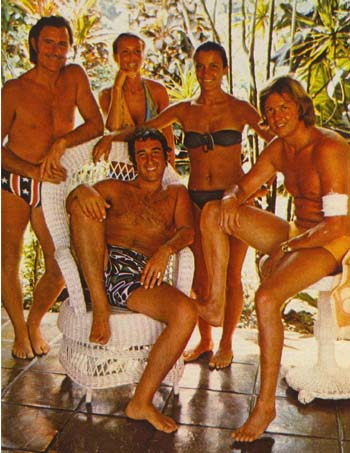 The glamourous seventies did not get past Graham. Carlos Pace looks to be in his element. And what's that on your arm, Ronnie?

For 1974 he switched to a new car built by Eric Broadley's Lola concern, the T370, which turned out to be reliable, but slow. Nevertheless he managed one points finish, with a sixth place in Sweden.

1975 was the year Graham Hill officially became a constructor. Andy Smallman, who had penned the Lola T370, came up with the Hill GH1, although the car was initially known as the Lola T371. The T370 served through the first few races, but Graham posted a DNS in South Africa and arrived at the next race in Spain as team boss rather than driver. The GH1 was a conventional Cosworth-engined kit-car and made its debut at Montjuich Park driven by François Migault and Rolf Stommelen. Stommelen was leading the race when in a strange twist of fate, harking back to the same race at the same circuit six years before, the rear wing sheared off his car and it ran along the barriers before tearing down spectator fences. The German escaped with several broken bones but three marshals and a photographer were killed and several other people were seriously injured.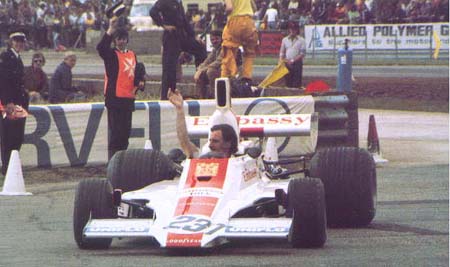 Farewell to a champion. Graham did a final lap of Silverstone before the 1975 British GP in the Hill GH1, receiving the plaudits of the fans.

Returning to the cockpit, Graham Hill's final appearance on-track was at Monaco. He drove both the new GH1 and the old T370, but was unable to qualify either for the race – it was a sad but somehow inevitable end for "Mr Monaco" at the scene of some of his greatest triumphs. The official announcement of his retirement from Formula 1 came at the British GP in July, by which time he had acquired the services of the promising Tony Brise, who quickly established himself as a competitive front runner, showing flashes of the brilliance that had brought him two Formula 3 titles in 1973. Brise recorded three good mid-season finishes, followed by a string of retirements, most of which could be put down to over-enthusiasm - he continued to race in Formula 5000 and even Formula Atlantic: he was John Player Formula Atlantic champion in 1975. Stommelen was replaced by the tough Australian Alan Jones, who provided the team with their best finish of the year, coming fifth in Germany.

Graham had lingered too long as a driver in Formula 1 and the poignant sight of him failing to qualify at Monaco brought tears to the eyes of even the most hard-bitten enthusiasts – his announcement of retirement was greeted with relief by all. He had competed in eighteen successive seasons and a total of 176 World Championship races – a record up to that time and not equalled until Jacques Laffite's career was abruptly ended on the same number in 1986. He was the last link with the 2.5 litre Formula 1 of the 1950s and, by outlasting Mike Hailwood and Denny Hulme by a couple of races he was also the last link with the 1.5 litre Formula 1. He was also the last to have driven a front-engined car (four actually) and the last man with experience of driving a four-wheel drive Formula 1 car: uniquely he drove three – the BRM P67 which never raced, the Ferguson P99 and the Lotus 63 - plus the Lotus 64 Indianapolis car. He had also driven two different turbine cars – the Rover-BRM and the Lotus 56. And, as noted above, he is the only driver to have completed the triple crown of World Championship, Le Mans and Indianapolis - truly a great all-rounder!

In the autumn of his career Graham had started to build a reputation as what today would be called a "media personality" – British fans always looked forward to his double act with Jackie Stewart at the BBC Sports Review of the Year and he appeared on shows as diverse as The Morecambe and Wise Show, Keepsakes and Call My Bluff. He even made an appearance on the big screen too with a small cameo part as "Bob Turner" in John Frankenheimer's 1967 movie Grand Prix: anyone who has seen that will understand why he was never offered any acting jobs! Graham was also much in demand as an after-dinner speaker with a ready fund of hilarious stories, most of them sexual or scatalogical. He was a keen golfer and enthusiastic rough shooter and in "retirement" he professed to being busier than ever. Yet at the same time there was a serious side to Graham Hill – he was just as passionate about safety in the sport as Stewart, Bonnier and Louis Stanley, having lived through the same era as them and lost many friends and acquaintances on the circuits, but in a strange contradiction to his normal public persona he did much of his work on safety behind closed doors, working with the sport's administrators and officials to provide his fellow-drivers with a safer environment in which to ply their trade. After his 1969 accident he involved himself with charities for the disabled, especially disabled drivers, and was in the forefront of the campaign to replace the three-wheeled "invalid carriage" with a vehicle more appropriate to modern traffic – that those deathtraps have now been superseded is a fitting memorial to the energy and time he devoted to that cause. He was also a member of the Blennerhassett Committee on reform of the drink-driving laws – and he wrote a best-selling book on safe driving too.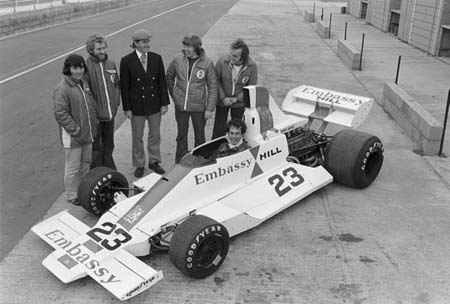 Unfulfilled potential: the launch of the Hill GH2 at Silverstone. Tony Brise at the wheel with Graham and his team.

Graham Hill seemed to be the ultimate survivor – he had made it through a period in which many great and not-so-great drivers had lost their lives to the sport and come out comparatively unscathed – and British enthusiasts were looking forward to 1976 when it seemed that his team, led by the rapidly-improving Tony Brise, might be challenging for victories, but all that changed on the foggy night of November 29th 1975. I can still remember the terrible empty feeling I had when I heard that Graham Hill's plane had crashed on Arkley golf course after apparently mistaking its lights for those of Elstree airfield. He had come down in some trees and Graham and all his passengers were killed instantly – the heart and soul was ripped out of the Embassy-Hill team as the owner, driver and designer all perished, along with three mechanics – Terry Richards, Ray Brimble and Tony Alcock.

A few days before he died, Graham had been guest of honour at a dinner of the prestigious National Sporting Club in London to celebrate his life and career. It is somehow fitting that this is the last event recorded in his second autobiography, which was meant to end with this sentence:

"While I had been a racing driver I had often said to audiences during speeches and talks: 'You know the risks, you accept them. If a man can't look at danger and still go on, man has stopped living. If the worst ever happens – then it means simply that I've been asked to pay the bill for the happiness of my life – without a moment's regret.'"

Sadly, that was not the last word and it was left to his widow Bette to write a postscript to the book, which even today I cannot read without being moved to tears. In it, she quotes the Bishop of St Albans at Graham's funeral service:

"Graham brought happiness to millions. Whether you knew him from a distance, or close to, he was for real."